While searching for an anniversary gift for my husband, I came across Terry Widner's Etsy store Spoontaneous. At first glance, I was blown away by the beauty and elegance of his wooden spoons. The grains, colors, curves and forms of these spoons took my breath away. I couldn't help but going through every one of his creations. And I knew that I needed to talk to Terry.
Judging by his museum-quality work and high-end photography, I thought I would be talking to a snobby artist. But Terry is one of the most down-to-earth people I have ever met. In fact, once he found out that I write about gifts, he was kind enough to give me gift ideas from his own experience with his wife and daughter, which I will detail in another post.
Although Terry has been living in Florida for 13 years, he still considers himself a "Kentucky boy." In his own words, Terry is a self-learner. He has never taken any formal woodworking class. "When I was 19, I wanted to make my then girlfriend something. So I went to the hobby store and got some micro lumber that's already cut to size, the type that you can cut with an X-ACTO knife or razor blade. I made her a jewelry box out of that. So that was the first thing I made. And that's how I got into it. She ended up leaving me for a preacher, but I ended up making a few things for her."
Besides spoons, Terry also enjoys creating other art forms like mosaics, masks and sculptures. He is currently creating a mosaic using several hundred acorns found in the Smokey Mountains. Nevertheless, wooden spoons have a special place in his heart. "I have books and books full of designs for boxes, planes, clocks and all sorts of things. There are so many possibilities. But I could never get them going. They sat for four, five years and I'd do a couple pieces and then I'd stop. I got overwhelmed. But four years ago, I decide to focus on spoons. What inspired me is this fellow named Norm Sartorius. And I have been following his work in the magazine for 10, 15 years. Once I did that, it allowed me to keep making stuff, rather than getting into a bottleneck or getting frozen up. Since then I've been making spoons."
Humor permeates Terry's work. The one that he deems funniest is the Bi-Polar Bear, which has a smiley face on one side and a growling face on the other. My favorite is the Dieter's Spoon that has spikes all over it.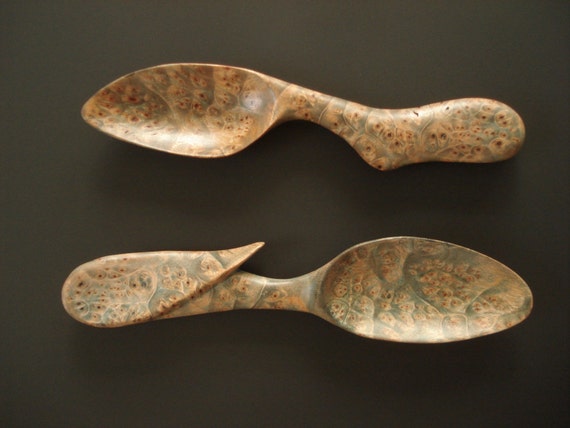 Terry enjoys seeing people's reaction, whether they get the humor or not. "At the art show, I really enjoy people's reaction: laughter, chuckle, raise their eyebrows, or show a look that they don't really understand. One time I carved out a cat, and it looked like it's been run over…kind of flat in the middle. Some people really loved it, but some people just got really mad. I like it that my work affects something, however it does."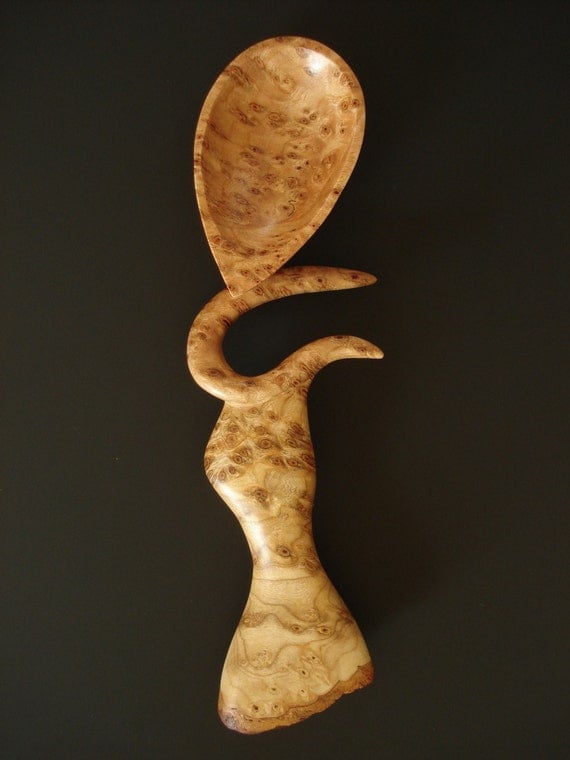 Terry's online store is three years old, but it was only five weeks ago that he started becoming a full-time artist working in his own studio. Customers all over the world are noticing his talent. Some even send wood for him to create customized spoons, and request spoons in the shape of different animals. Now Terry is working seven days a week to satisfy the demand. Regardless, this Southern gentleman is still squeezing out time to create sculptures and spoons as gifts for his wife, daughter and siblings.
Besides his Etsy store, you can also check out Terry's gallery on his website.