Christmas Gifts for Sewing Divas—do you have someone in your life who loves sewing? Does she spend all her free time sewing wonderful garments and other creations for herself, her man, her kids, her home and her friends?
You want to give her something special this Christmas that she will cherish for a long time. Without knowing much about the sewing hobby, it might be hard for you to pick something that will be appreciated. But fear not, I've already pre-screened these delightful gifts that every sewing diva would enjoy.
Scissors are the main tools any seamstress cannot live without. Having great ones will make her sewing experience so much more enjoyable. Naturally you would want her to have the best of the best.
If you do your research, some people might tell you that Gingher scissors are great scissors; those people have not experienced the joy of using Kai shears. Don't get me wrong, Gingher scissors are good, in the sense that BMWs are great cars, but they are not Ferraris. Kai scissors are the Ferraris of scissors. They remain sharp if properly cared for. They are light, smooth and have excellent balance to avoid fatigue. Trust me—if she doesn't have a pair yet, get her one. She will thank you profusely.
Of course she needs more than one pair of scissors for her sewing projects—it's like you wouldn't have just one screwdriver to build a cabinet, would you? This is another pair that she will find quite useful. It is a pair of small embroidery scissors whose main task is to cut small threads. They are pointed and sharp, so she can cut right to the tip.
This particular pair is in the shape of an adorable stork. The intricacy makes them look like high-quality heirlooms. They are made in Italy; not made in China!
If she loves sewing and constantly wants to learn, then she will definitely fall in love with the Threads Magazine Archive DVD. Threads is the de-facto sewing magazine authority—in my opinion no other even comes close to its creativity, usefulness and style. This DVD contains every page and picture of 27 years of Threads Magazine, which has 1500 articles and 1800 expert tips, along with the search function to find exactly what she needs to learn.  This is definitely a gift that she will cherish for years to come.
The Fundamental Guide Book to Sewing
Is she a beginner seamstress? Then she absolutely needs a good sewing reference book. One great choice is The New Complete Guide to Sewing: Step-by-Step Techniques for Making Clothes and Home Accessories. It is a substantial book with tons of close-up photos to explain meticulously every essential detail of sewing from the ground up.
If she loves to sew for her kids, then this Oliver + S Little Things to Sew: 20 Classic Accessories and Toys for Children book is a great gift for her. It features contemporary yet classically sensible kids' designs, precise, easy-to-follow instructions, and charming paper doll–inspired packaging. The stylish, clean and elegant designs have quite a cult following in the sewing pattern world. Get her this gift and she'll be hooked.
One of the fundamental tools any sewing diva needs is seam ripper. Yes, it's true that she might spend more time ripping out seams than sewing. That's just a fact of life—it's not just the truth for beginners, even experienced seamstress need to undo her seams quite often.
The chance is that she owns a little flimsy plastic one now—one that every sewing store sells. However, she will appreciate and start to understand the magic of this Gingher Seam Ripper if you give her one. Its ergonomically designed handle is made of die cast aluminum with chrome over nickel finish. The blade is both retractable and replaceable, so she can rip through seams effortlessly.
To have precise stitches without straining her eyes, she is going to need a good light right next to her sewing machine. This attractive and functional Fulcrum Battery-Operated LED Clip-On Light will provide just the illumination she needs. Because it's LED, she will never need to replace the battery and there is no cumbersome cord to deal with.  And it will also stay cool to touch.
Looking for a little something to compliment the main gift? Then this adorable Snail Retractable Measuring Tape is it. It is incredibly cute and can be attached to her key ring, so she can conveniently measure fabric when she is shopping.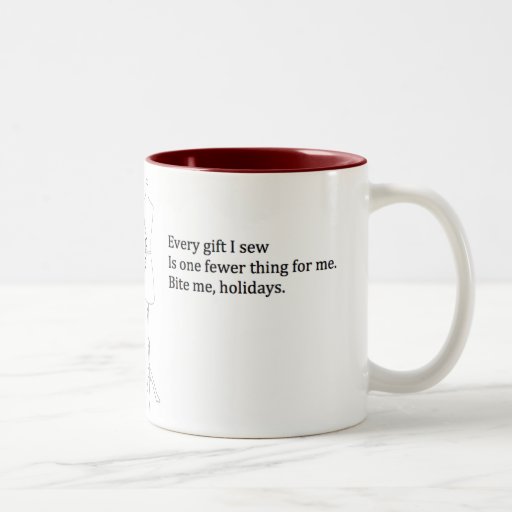 "Every gift I sew is one fewer things for me. Bite me, holidays"—it's so funny, but actually true. If your beloved sewing diva has a good sense of humor, she will embrace this mug. This mug is designed by the sewing blogger, Selfish Seamstress. She is not so selfish after all, since all the proceeds from the sale of the mug goes to St. Jude Children's Research Hospital.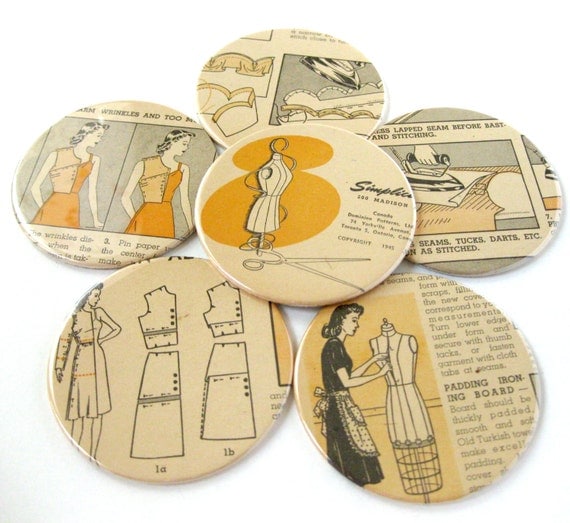 These handmade coasters are repurposed from vintage Simplicity Sewing Book. They are great gifts for the retro sewing lovers. She can place her coffee on it while doing her late night sewing.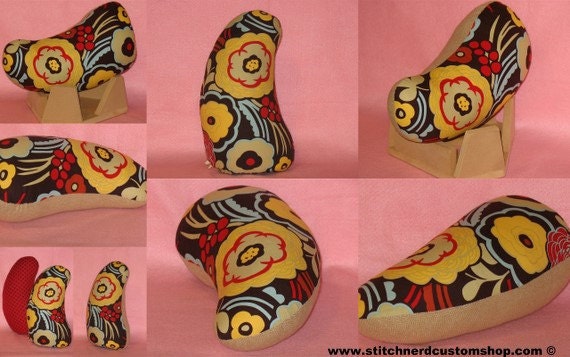 This ham has nothing to do with the version you eat during the holiday. A pressing ham is a great tool for all seamstresses since pressing (ironing) is the most important part of sewing. In fact, seamstresses spend as much time pressing as sewing at the machine. Without good pressing, the garment will look like a homemade mess.
This pressing ham will help her to press her garments even with weird contours.  Besides being useful, it also looks quite adorable. You can even pick from 120 fabrics.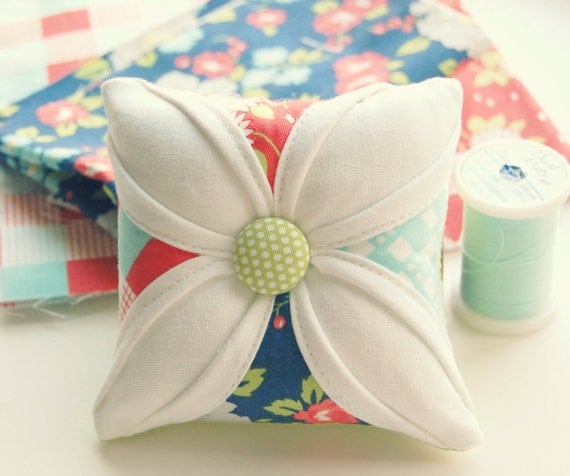 Even people who don't sew know that pincushions are basic tool for a seamstress. Your mom probably used a tomato shaped one since that's the most popular version in the world. However, she doesn't have to stay traditional. Why not get her one that is one of a kind? This Cathedral Window Pincushion is unique and super cute.
Not only big name designers can have their own labels; your beloved sewing diva can also have one of her own. Give her this customized embroidered Sew-On ½" Designer Woven Labels so she can proclaim the garment "A Sandy Original" or "Anna's Couture".
Comments? Any suggestions about these Christmas Gifts for Sewing Divas? Tell us your experience? Do share!